We're still on quarantine due to the pox, so here's another rambly home post. 🙂
It's 11 am. It's sunny and blue sky-ed outside, with a nice breeze coming through the windows.
I have this song stuck in my head.  The Imagine Dragons album Night Visions has become my go-to listen album, just like the Killers' Hot Fuss and Neon Trees' Habits before it. I do have a type, I suppose.  I've also been LOVING this song by Pink and Nate Ruess from fun. . And I love it for all the reasons that Kacy lays out in this post, so you should read it, because it's insightful. Nate Ruess' voice slays me, and it counterpoints Pink's really nicely. I've always liked Pink- I had one of her first singles back when she was doing R & B. (This totally reminds me of the Portlandia sketch about Cat Nap…) I've enjoyed her music, but I total love her after seeing this video of her at one of her concerts where she saw a little girl crying in the crowd.  I love how sweet she is to the little girl, and how blunt she is with the people around her. "You all are fighting around a little girl? Cut it out, y'all! Y'all are grown a– women!"
The girls have been playing beautifully all morning. Â They recently got new little toys, and decided to put on a puppet show this morning. Â They came in and gave me my ticket, which I presented at the door.
Two characters, Choco-moco and Flonut (half flower, half donut), were lost on a strange pink planet. There was a song involved, and they eventually made it home again.
Then they decided to be pirates- Captain Crabby Face (Zo) and Buccaneer Toons (Tiny). They're kind of crazy people. (The pictures are blurry because they would NOT stop moving.)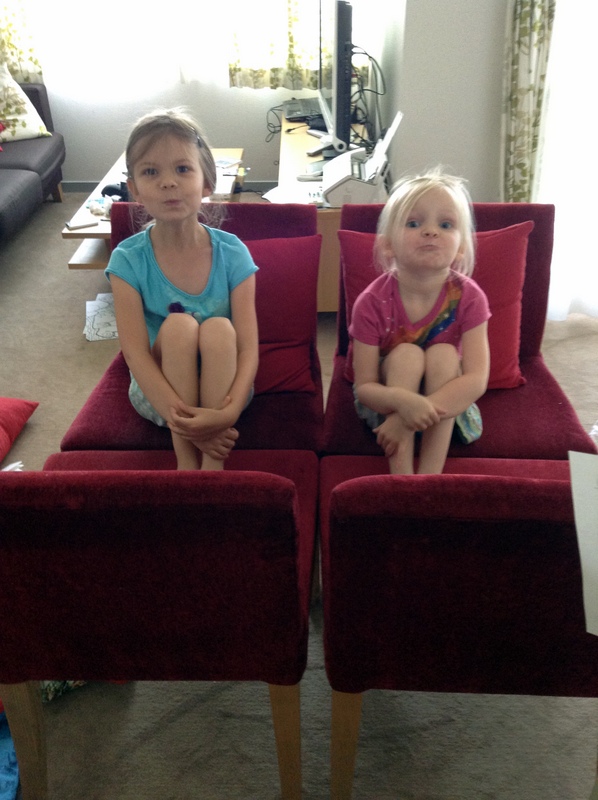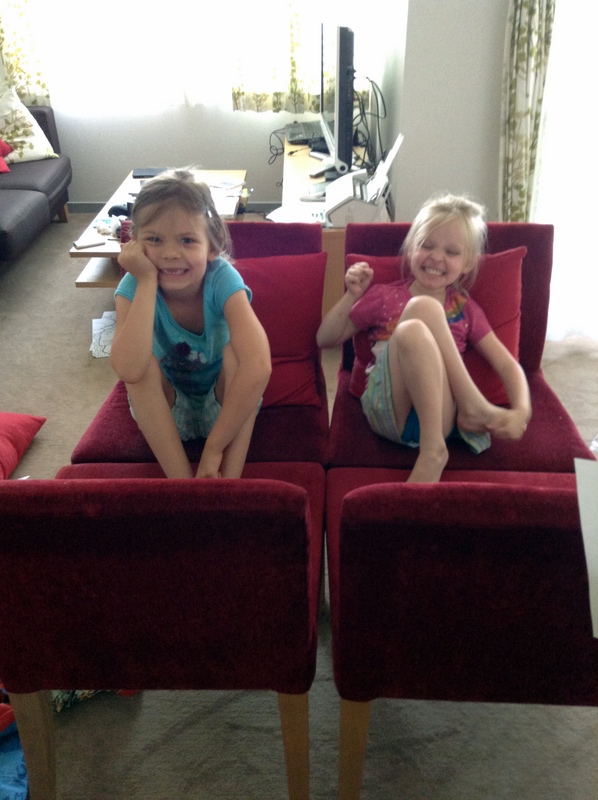 Tiny's grin just cracks me up. I love it when they play and are creative. I read an interview with Will Smith and his son the other day, (side note- people are calling it the "most bizzare interview ever", which I just don't see. It made perfect sense to me.) and he said something that resonated.
I think that if you were to come to the house, people would really be ­surprised at how simple and basic it is. Our whole dream for our home was for it to be an artist's haven. So there are paint supplies; there's a piano with a microphone and a recorder right there to capture things right in the second. There's editing equipment. There are cameras. I think the only thing in our house that people would be surprised by is the efficiency.

For our family, the entire structure of our life, our home, our business relationships—the entire purpose is for everyone to be able to create in a way that makes them happy. Fame is almost an inconsequential by-product of what we're really trying to accomplish. We are trying to put great things into the world, we're trying to have fun, and we're trying to become the greatest versions of ourselves in the process of doing things we love.
I love that. That's what I want for my home, for it to be a place where we can create and learn and grow and become better people. I love (and miss!) having art supplies where the girls can pick them up whenever they want. When we move back here, we'll be doing school with both girls, piano lessons, art, B will be working on a business degree, Â I'll be editing my novel, and we'll all be learning Japanese. So many things to create and do, and I love that we can do it all together in a gorgeous, magic house.
Speaking of creating, this is one of the assignments I did for my map making class. I turned the campus of UCSC into a continent. I started out intending to trace out the roads at UCSC to create templates to cut out paper and create a mosaic-like depiction of the campus, but as I started marking out the roads I noticed that the areas were beginning to resemble little countries. The school itself is separated into "colleges", each with its own focus and personality. So instead of following the roads, I began to break up the campus by "territory", until it became its own little continent within the larger city of Santa Cruz. It was fun trying to determine what "country" got what buildings along the borders.
Let's see, what else? I'm currently reading Easy To Love, Difficult To Discipline: The 7 Basic Skills For Turning Conflict
 with a virtual book club, and enjoying it quite a lot. It's one of those books that you have to read a bit, then think about it and try to apply it, and then read some more, so I'm also reading The Thief
 by Fuminori Nakamura. It's about a thief (surprise!) and set in Tokyo, and it's compelling so far. I have the feeling it's going to get quite dark by the end.
Speaking of Tokyo, but not of dark, just a little weird, here are your weird Tokyo pictures for the day. They come from a pamphlet from Starbucks in Ginza. I'm not sure if the idea is to accessorize your outfit with the drinks, or accessorize the drinks with your outfit. Â But the pictures amused me.
There you have it.
Oh, I'd forgotten, I wanted to answer a question Brandy asked quite a while back about why we buy bread so often. The bread here isn't shelf stable, which is wonderful because that means it doesn't have a bunch of extra stuff in it, but also means it doesn't last very long at all. It also only comes in packages of 6-8 slices, so we get two packages at a time and that gets us through two days and then we go get some more. It will be nice to have the capability to make bread here, so we don't have to do that.
And because my cousin Mike requested it, a picture of me.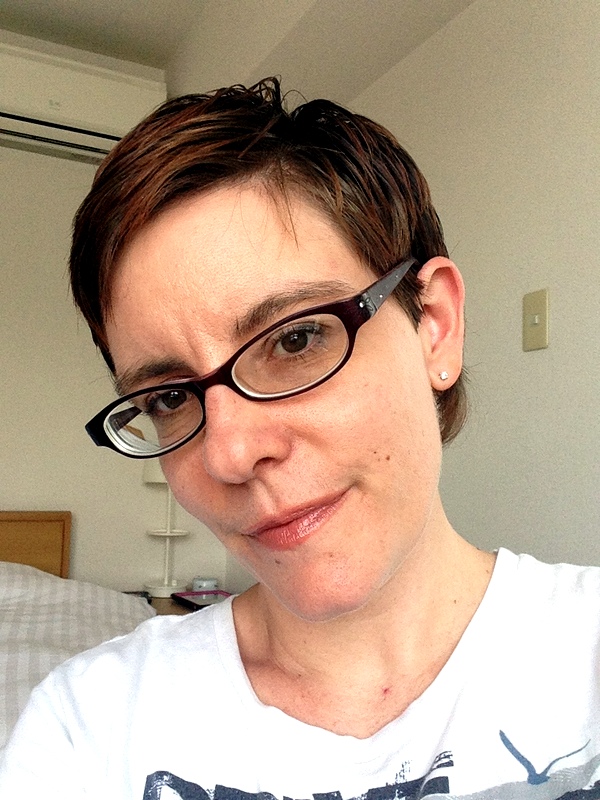 What's going on with you at this moment?