We went to Disneyland this last week, it was spectacular. The girls had no idea we were going, they just knew that B was going out of town for a business trip. (Which technically, he was.)  When we got to the airport we told them that we were all getting on the plane, but they still didn't know precisely where we going.  It wasn't until we pulled up to the Grand Californian and Z saw the sign that said Disneyland that they figured it out. 🙂
But more surprises were to come– a couple of hours after we got to the hotel, there was a knock from the room adjoining ours. I think Z thought that it was a character- Mickey or someone- but when we opened the door it was Grandma and Papa! The girls just about died.
We had a wonderful time- spent 3 days across Disneyland and CA adventure, and went on a ton of rides. We pushed the girls a little (took them on Pirates, which they didn't prefer- Z liked It's a Small World better, because it's "cuter"), but not too far- we decided to skip Haunted Mansion this time around, and we didn't try Space Mountain even though Z is tall enough. We also convinced them to go on Midway Games, the Toy Story ride, which Z was in tears about because she thought it would be scary. But they absolutely loved it, and we ended up going on it more than any other ride.
The conference that B was down there for had a Disneyland night, and he was able to get me in, so we were able to go on all of the "grown-up" rides in a couple of hours, with no waits at all. We hit Star Tours twice, Space Mountain, Big Thunder Mountain, Haunted Mansion, Indiana Jones, Buzz Lightyear (which we did take the kids on), and… something else, it feels like. It was awesome to get to do the rides we wanted, without having to worry about the girls. 🙂
Here's some pictures: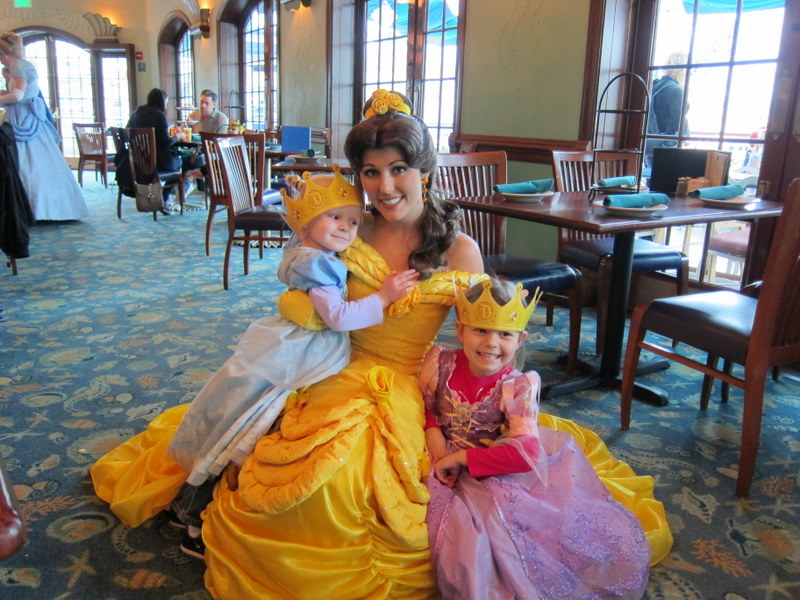 Yay for the princess lunch at Ariel's Grotto! The girls got to meet Cinderella, Belle, Aurora, and Mulan.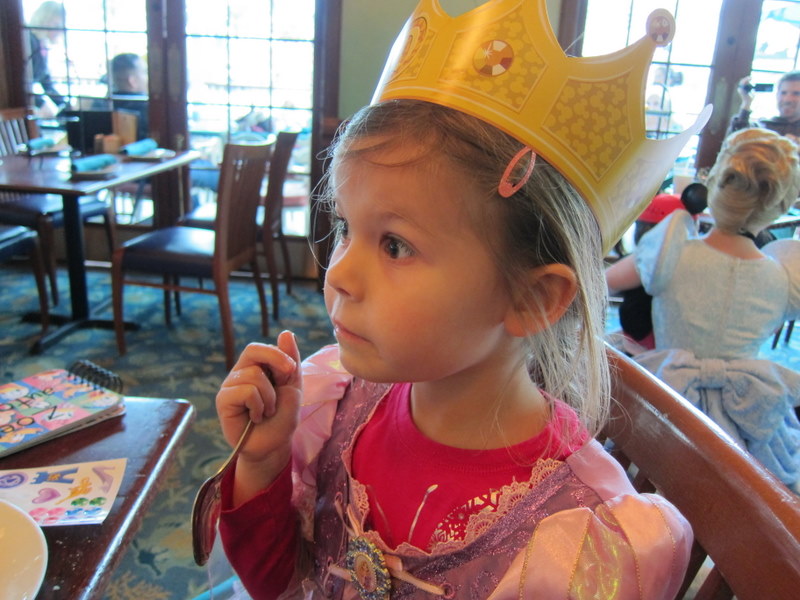 And here's Z's face when Belle walked in. 🙂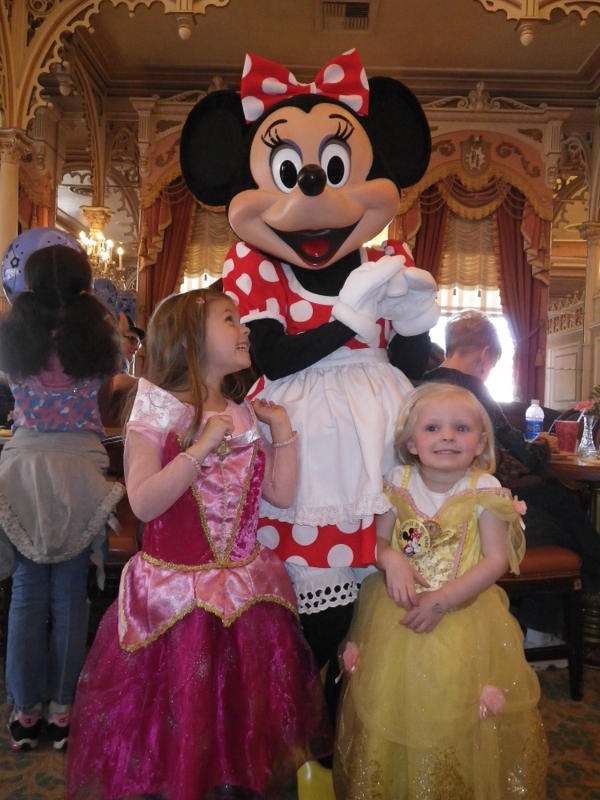 Meeting Minnie. Seriously, the character meals are the best deal ever. At this breakfast, the girls saw Minnie, Tigger, Pooh, Rabbit, Eeyore, Captain Hook (who played with Tiny for a good 10 minutes and got in a balloon fight with the table next to ours), Chip and Dale, and the Fairy Godmother.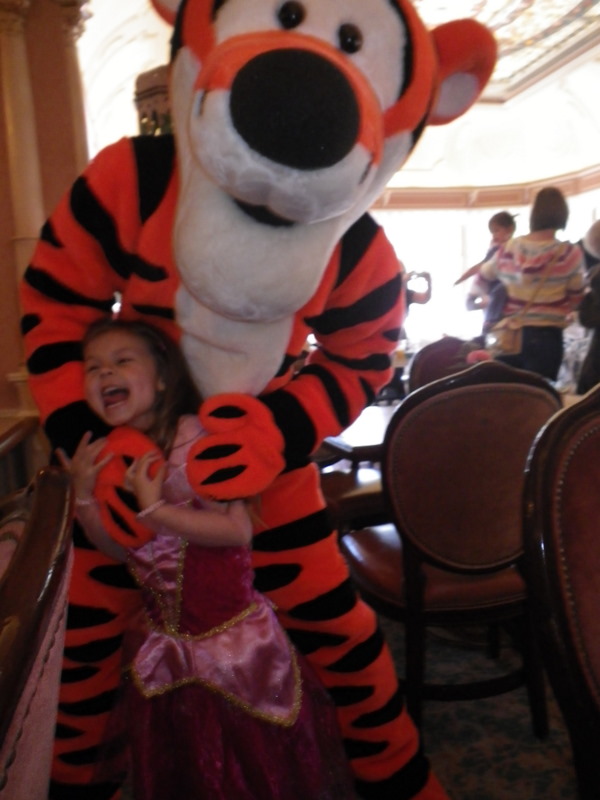 Horsing around with Tigger.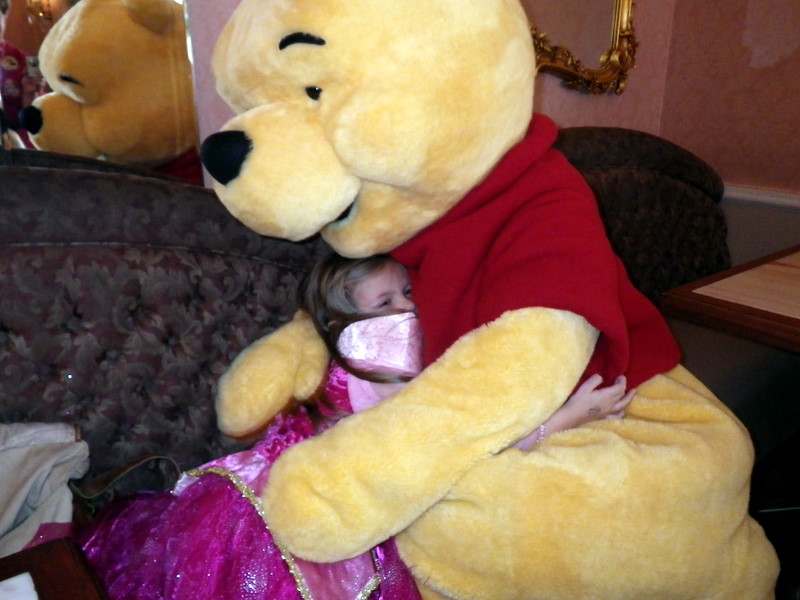 Hugs with Pooh Bear.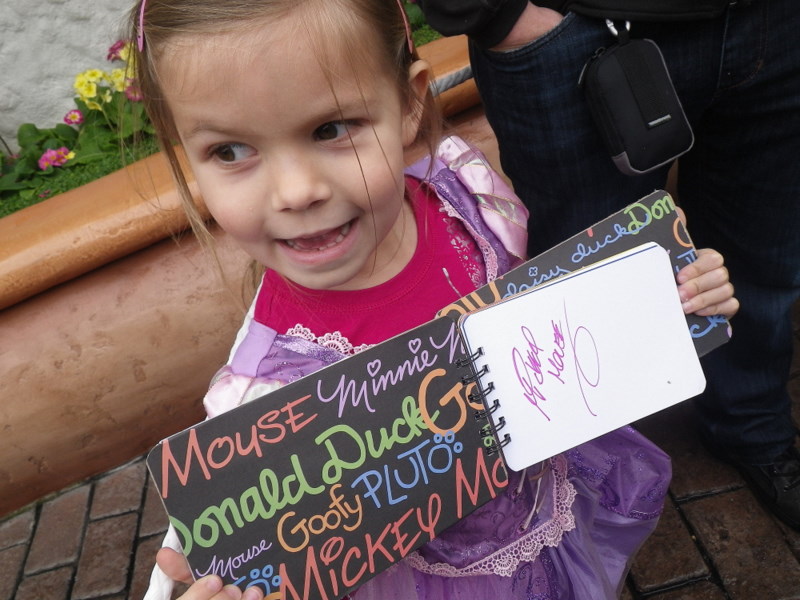 Autograph books.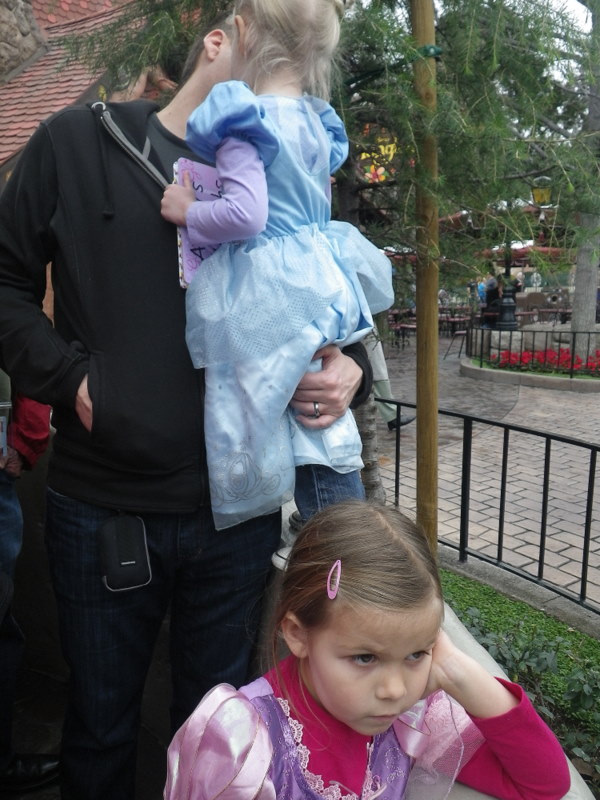 Waiting to meet Rapunzel. It was the longest we waited for anything in the park, clocking in at 45 minutes. But she's Z's favorite, and it's the only place in the park to see her.
When Tiny saw Rapunzel.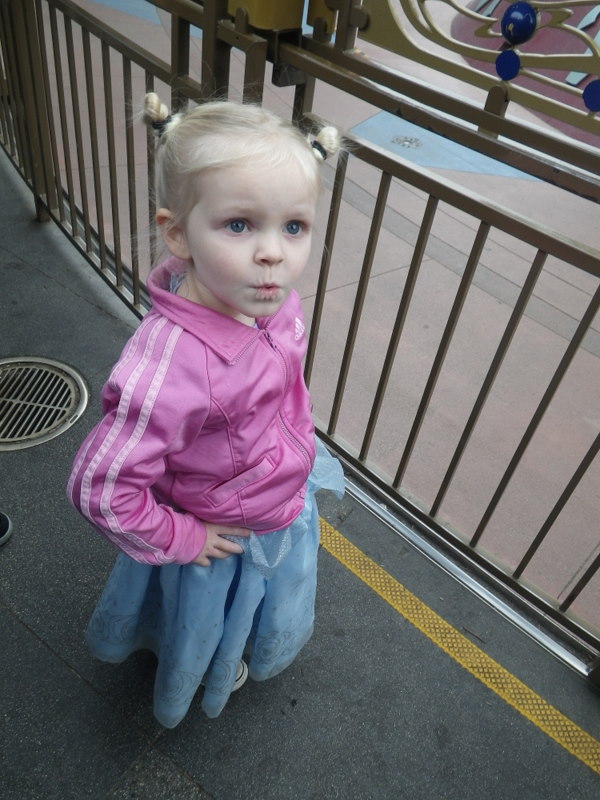 Waiting in line.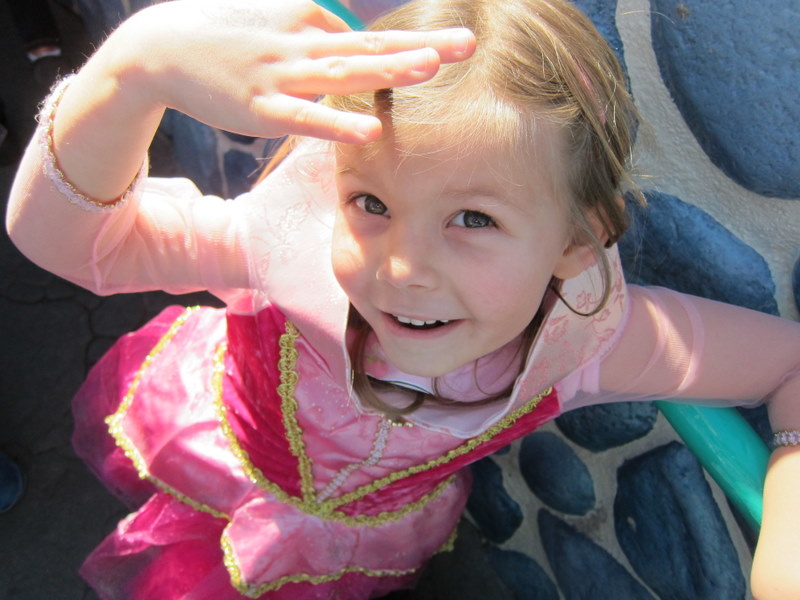 Silly poses.
Looking out at "The Mickey" as Tiny calls it- she was OBSESSED with the ferris wheel.
Silly Tiny waiting for her favorite ride, the "Happy shooting ride".
Tiny's total meltdown on Autopia. Direct quote, screamed at the top of her lungs: "I AM NOT A GOOD DRIVER!!!"  (I thought the picture's blurriness added to the literalness of the moment.) It was so hilarious and so sad, all at the same time.  Compare with calm, cool and collected Z below: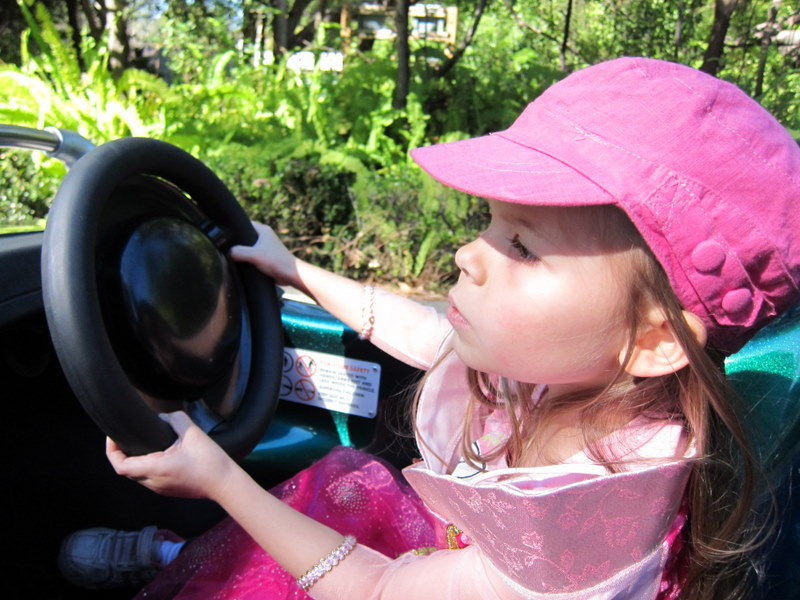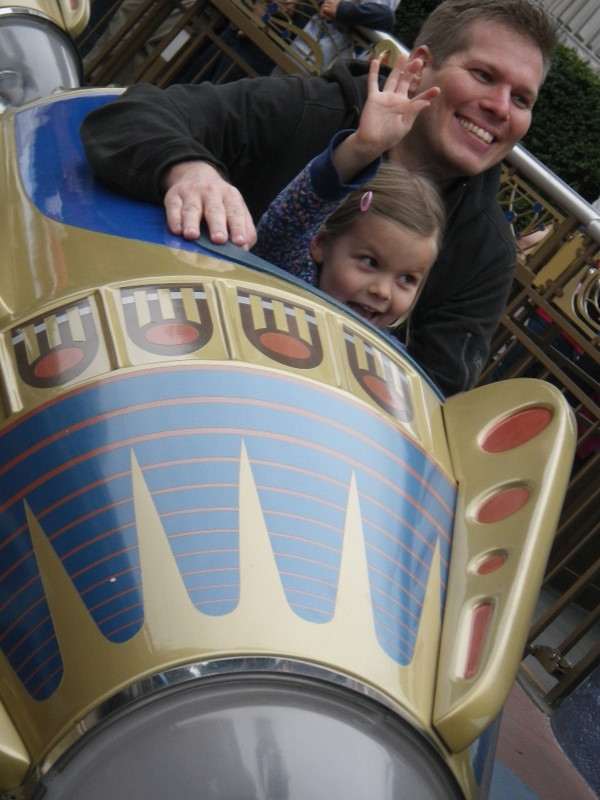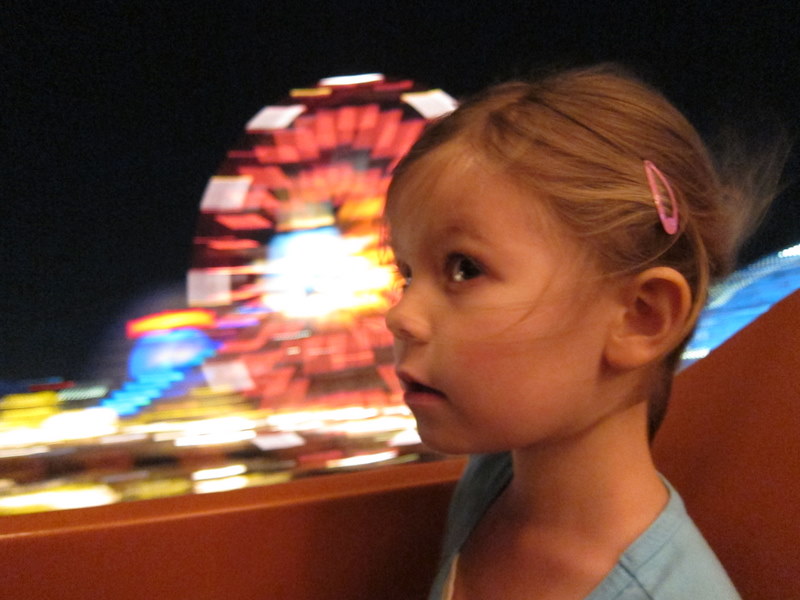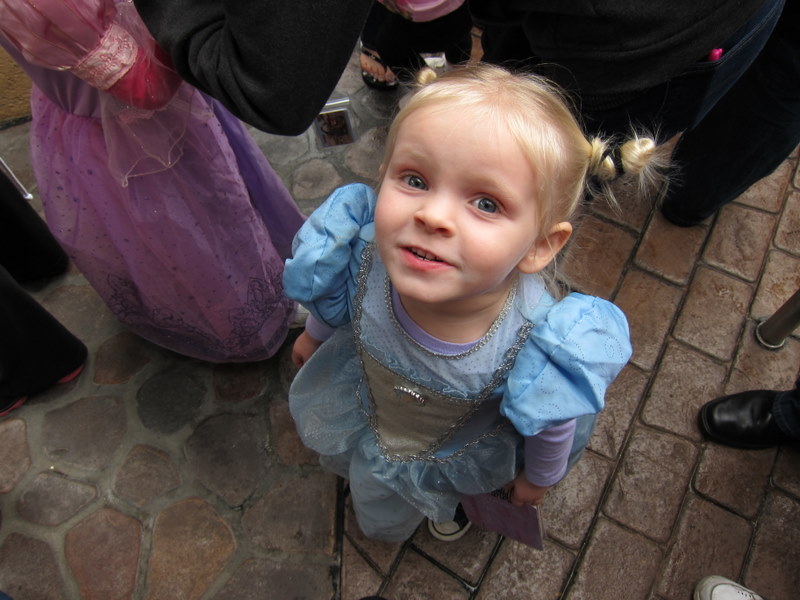 (By the way, half of these pictures were taken by B. If they're gorgeous, they're his.)
It was a wonderful trip, and I'm so grateful we got to go.