What I read this year: 2017
I read a lot this year. A lot. More than any other year in the last 14 or so. Some of that had to do with 2 book challenges I ran- one over the summer and one that's currently going. For the summer challenge, that meant 50 books read over 3 months, which definitely boosted my total.
My total as of this morning (I'm in the middle of a book that I'll most likely finish by tonight) is 163 books finished. 38% of those were non-fiction, 62% fiction. (Not once, in all the years that I've been tracking what I read, have I gotten my non fiction percentage higher than 40%. I just can't do it.) 62% by women, 33% by authors of color, 11% in translation from another language. For the last two years I've made a concerted effort to read more authors of color, and I'm hoping to push that percentage higher in the coming year.
I'm not going to list all of the books I read in this post (maybe in another one), but rather those I rated 5 stars. My rating system is fairly subjective- if I loved the book and/or it stays with me for a long time, it gets 5 stars.
I'm starting with my top 5, and the rest are in no particular order. But these top five- man, I love them so much. SO much. When I was reading them I didn't want them to end, and when I finished I wanted to read them again.
#1 Strange Practice by Vivian Shaw: Dr. Greta Helsing (yes, that Helsing- they dropped the Van a generation or so ago) is a doctor that specializes in treating the undead. Vampires, werecreatures, banshees, mummies- if they need help they go to her. Then a group of murderous monks shows up. (As they do.)
#2Â A Study in Charlotte by Brittany Cavallaro: There are three Sherlock Holmes inspired books on this list, this being, obviously, my favorite. Set in current day (in a slightly altered version of our world, as you'll see), at a private school, the descendant of John Watson (who really lived and wrote about the real adventures of the real Sherlock Holmes) and the descendant of Sherlock Holmes (Charlotte Holmes, of the title) meet and are thrown into the middle of a murder investigation. The characters of Jamie Watson and Charlotte are true to the originals while being thoroughly modern, their interactions are things of beauty, and the mystery itself is excellent. Charlotte is an enigma, and Jamie is kind and good, as any Watson should be. His attempts to solve the mystery that is Charlotte is as excellent as the murder investigation itself.
#3Â Meddling Kids by Edgar Cantero: What if the monsters that the Scooby Doo gang investigated weren't old men in masks, but Lovecraftian horrors? The gang would grow up to be seriously damaged, somewhat suicidal, guilt ridden adults who decide they have to go back and find out once and for all what's real and what's not. That's this book, and it's magnificent.
#4Â If We Were Villains by M. L. Rio: I'm a sucker for a book set in a school. Make in an exclusive acting school, add in a group of hyper intellectual, full of themselves students who converse in lines from Shakespeare plays, and a murder, and I'm in heaven. This book is SO GOOD. The characters are living, breathing people, and the tension between the group of friends is absolutely believable. It reminded me of The Secret History, but it's definitely its own beast.
#5 My Cousin Rachel by Daphne du Maurier: Ambrose and Phillip are cousins, confirmed bachelors, and best friends. Phillip is Ambrose's heir, and together they live on a grand estate. Then Ambrose goes on a trip to Florence, marries a mysterious distant cousin (Rachel),  sends home disturbing letters, and dies. Uncertain as to Ambrose's mental health, the reasons behind his death, and the role of Rachel in all this, Phillip welcomes Rachel to the estate… This book is so incredibly atmospheric and encompassing. I missed it when I finished reading it.
A Gentleman in Moscow by Amor Towles: It's 1922 in Russia, and aristocrats are being killed. Count Rostov would be dead if it weren't for a favor from a friend, which sentences him instead to a life of house arrest in the grand hotel, Metropol, where he lives. If he step outside, he will be shot.  The rest of his life, as it plays out within the walls of the hotel, is a thing of beauty.
A Study in Scarlet Women by Sherry Thomas: This is the second of the Sherlock books, and again, the Sherlock character is a Charlotte. But this Charlotte lives in the late 1800's, where investigating a series of murders (of which her sister and father are accused) is far more difficult for a young woman trying to keep her reputation in tact.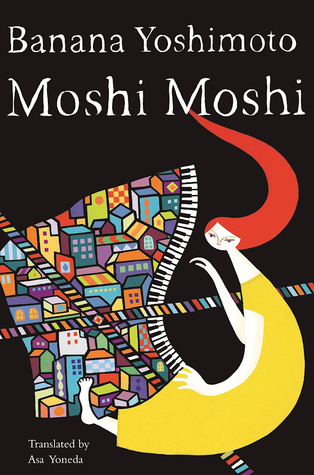 Moshi Moshi by Banana Yashimoto: I love this book so much. Yoshie's beloved father dies in a suicide pact with an unknown woman, and it throws her life upside down. She and her mother move to a new neighborhood and try to rebuild their lives, but Yoshie keeps dreaming of the day her father died and his trying to contact her. Is she being haunted? As she and her mother begin to get to know their new neighborhood and the people there, things begin to change for them.
It seems like this should be a super intense, dramatic book, but it has a detachment that keeps the melancholy light rather than overbearing. I particularly love it because it's set in Shimokitazawa, which is an adorable Tokyo neighborhood that I loved going to.
Caraval by Stephanie Garber: This book is magical and lovely. A young woman has to escape from the grip of her cruel father to attend Caraval, a once a year performance where the audience is part of a huge game, so that she can save her sister. The concept of Caraval and what it entails is gorgeous, and the magic of the experience is reflected in the writing. It has a feel reminiscent of The Night Circus, in that it is full of magic and wonder, while being something completely different.
Lincoln in the Bardo by George Saunders: This book won tons of awards, and they were totally deserved. I don't even really know how to describe this book. President Abraham Lincoln's young son has died, and Lincoln visits him in the cemetery. In doing so he brings the reader into the Bardo, a liminal space where the spirits of others buried in the cemetery exist and speak. Those spirits run the gamut of social strata, and the things they say cover things of earth and beyond. It was described as kaleidoscopic, and that's pretty accurate. Fair warning: There are two or three sections that feature characters that are vulgar and curse constantly, to the point that I skipped their sections, but the rest is brilliant.
Warlock Holmes: A Study in Brimstone by G.S. Denning: This is the third Sherlock book, and the most delightfully crazy. Warlock Holmes is a … wait for it… warlock. Necromancy, demons, and mystery- what more could you ask for?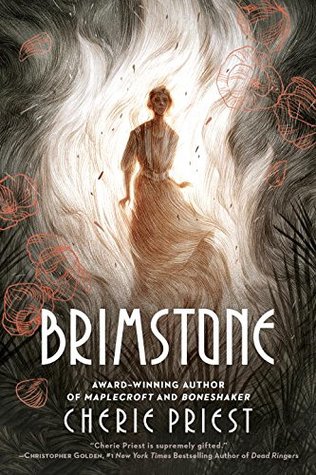 Brimstone by Cherie Priest: After World War 1, Tomas comes home with nightmares of the liquid fire throwing weapon he was charged with operating. His wife has died in his absence, and fires keep starting wherever he is. Alice is a clairvoyant whose dreams have been filled with fire. When the two come together in a small community in Florida, things get dangerous. Cherie Priest does brilliantly at creating creepy, disturbing, yet completely enjoyable stories, and this one is of her best.
Broken Verses by Kamila Shamsie: I'm copying from Amazon's blurb, because I just spent 15 minutes trying to write this in a way that makes sense and it kept getting tangled up. "Fourteen years ago, famous Pakistani activist Samina Akram disappeared. Two years earlier, her lover, Pakistan's greatest poet, was beaten to death by government thugs. In present-day Karachi, her daughter Aasmaani has just discovered a letter in the couple's private code—a letter that could only have been written recently."  This is the first book that I've read set in Pakistan, and the cultural and historical elements were fascinating, as was the mystery at the core of the book.
Concussion by Jeanne Laskas: This book was the biggest eye opener of all of the books I read this year. It's about the epidemic of concussions in the NFL, and the incredible amount of damage that concussions cause to players. It's disturbing, informative, and angering. I highly recommend it.
Water by the Spoonful by Quiara Alegria Hudes: This is a moving, inspiring, heartbreaking play about a veteran trying to fit back into civilian life, a group of addicts trying to keep each other afloat via a private chat room, and families trying to hang together.
A Million Little Ways by Emily Freeman: This book is jam packed with inspiration about living creatively and fully, and seeing art in a different way. I think I highlighted a solid half of the book.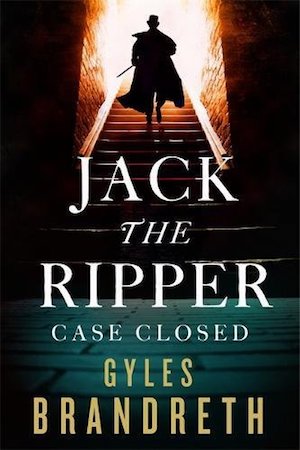 Jack the Ripper Case Closed by Gyles Brandreth: I love anything by Gyles Brandreth. This is part of his Oscar Wilde series, where Oscar Wilde and Arthur Conan Doyle solve mysteries. In this case, they're trying to solve the mystery of the identity of Jack the Ripper, years after the fact. Brandreth's books are always historically accurate or possible (Wilde and Doyle did know each other in real life), and the resolution of Jack the Ripper's identity is interesting, if improbable.