I'm trying really hard to eat healthier, but it is difficult to convince oneself to partake in a green smoothie with frozen ingredients when it is raining (borderline snowing) outside and the house is cold. It's so much easier to listen to the very loud voice that is saying that hashbrowns are exactly what is needed. Dear reader, I listened to that voice.
I'm not going to go into how that thought process led to reminding me of this routine (it involves the heart wanting what it wants, and Selena Gomez, and then I lost track and don't feel the need to explain my art to you, Warren-) Â but I was reminded of this routine so I share it. It's SO good. This was the routine where Janine showed up to play. Before this she was good, but she made herself known in this one. Brandon was always brilliant, and together they kill it. The big move at 1:16 is just breathtaking. I remember calling my sister the first time this was on and telling her that she had to watch it, and then she had to watch it again and watch whichever one she didn't watch the first time. Because you can't watch both of them the same time, they each bring something so different to it.

I haven't posted about what I've been reading this month because I've mainly been reading one book- it always takes me longer to read non-fiction than fiction. This one is about how the development of English as a global language is influencing national literatures. It is FASCINATING. I wish I'd read it in college. But it didn't exist back then, and I wouldn't have appreciated it as much. I'll write about it more once I'm finished.
We're looking at possibilities of housing for when we move back to the states, and can I just say that the variety of quality of pictures on people's listings is drastic? Upside down pictures, blurry, all the way to super high definition resolution madness that looks illustrated. Those pictures look artsy, but make me question the integrity of the house. Â But I am getting to the point when I am almost literally offended when there aren't any pictures, just one of the outside of the house. That's just ridiculous. Why would I pick that house?
We're learning about Canada this week, and the girls now want to go there. There's a great series called Globe Trekkers where the host explores a different country each episode, and it's excellent for getting an overview of different parts of a country. Â So we watched a part about gold mining in the Yukon, and making maple sugar in Quebec, and the forests and lakes of Prince Edward Island and the polar bears in the arctic areas. And of course the Edmonton Mall- largest mall in North America. And of course, that's where the girls want to go. 🙂
The girls are watching Fantasia right now for the first time. It's rainy and cold, perfect time to hole up in the living room with the heater on and kick back. Z is putting together her lego kit as she watches.
I'm sleepy. I had one of those nights where the whole night you're dreaming that you're awake and doing things that you normally do and talking about things that you're thinking about in awake life, so when you wake up it feels like you didn't get any sleep, you were just awake for 12 hours but didn't actually accomplish anything. Maybe I was in an alternate dimension.
I finally got to watch God Help the Girl last week, a lovely little movie about a girl with issues who wants to make music. She meets a boy and another girl and they decide to try being a band. It's a musical, in that people stop and sing, but everyone notices that they're singing. The songs are sweet and the people and clothes are pretty, and the whole movie is just an enjoyable watch.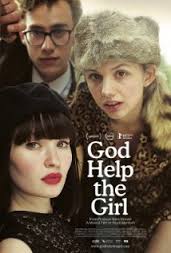 We also watched Under the Skin, which was atmospheric and odd and thought provoking. A woman lures lonely men into her van and home and "consumes" them. The first line of dialogue doesn't happen until like 15 minutes into the movie. It's definitely odd, but effective sci-fi, I think. I'd recommend it, but only to certain people.
I also watched Advanced Style, which is a documentary about older women (from 62-95 years old) who live in New York and are fashionistas. It's so inspiring to see people embracing creativity and living their lives to the fullest.
We just hit the point in Fantasia with the unicorns. The girls are about to die. Â Z is arguing that since centaurs have 6 appendages they could be insects.
And I've just been asked to help with Legos, so I shall go help construct a mall.
What's going on with you?