Last week we went to Tokyo Disneyland and DisneySea for 2 days. It was a fantastic trip. Last time we went, it was the middle of winter, freezing, raining, and the park was packed. We had a good time, but it was not ideal. This time was the opposite (except the good time part), the weather was gorgeous, the park was fairly empty, and we had an incredible time. Wait times were short; the longest wait we had was 1/2 hr for Dumbo.
I took a million and a half pictures, and have tried to cull them down to things that are interesting/unique about the two parks. And that feature my children, because their grandparents want to see them. This is the first of a number of posts, so if there's not something here that you want to see, give it time. 🙂 And if there's something you REALLY want to see/know about, just ask in the comments.
Little Miss is just a little bit excited.
The view from the monorail.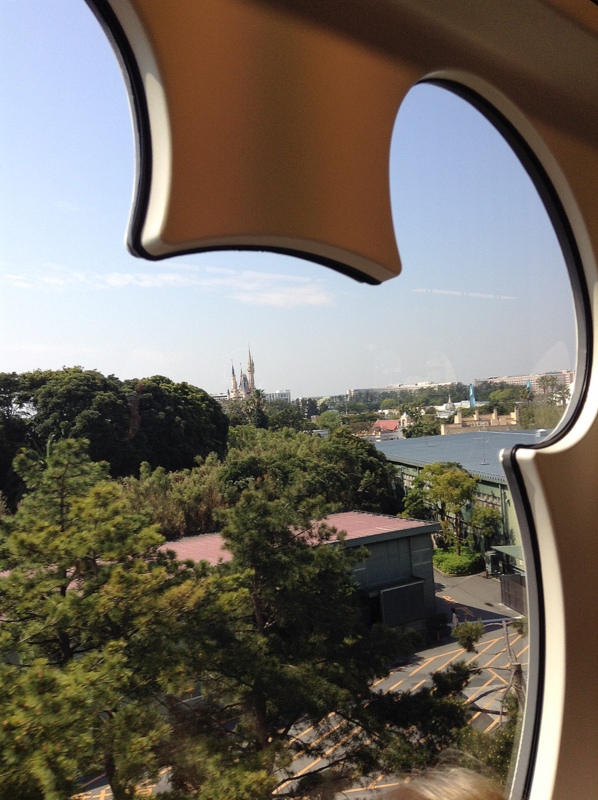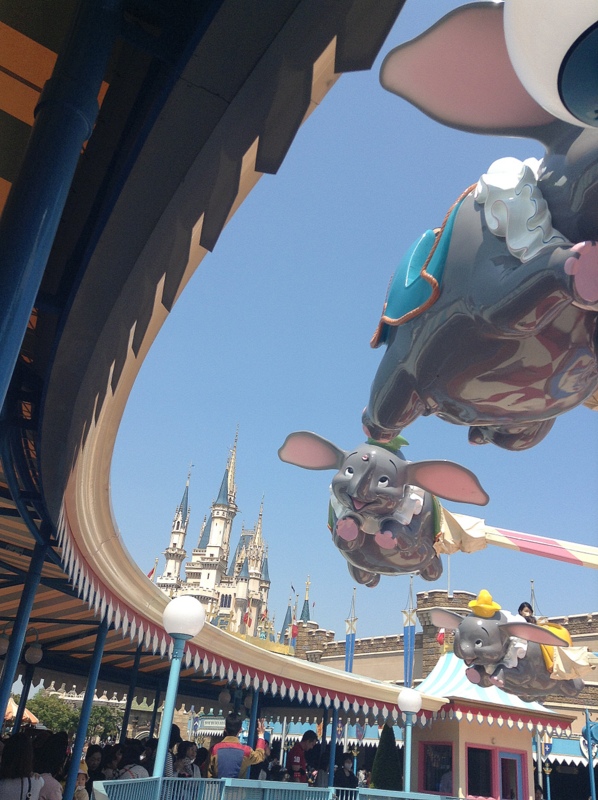 I unabashedly love It's A Small World. The version here is similar to CA Disneyland, but the Japan themed section is larger and they haven't added in any of the Disney characters.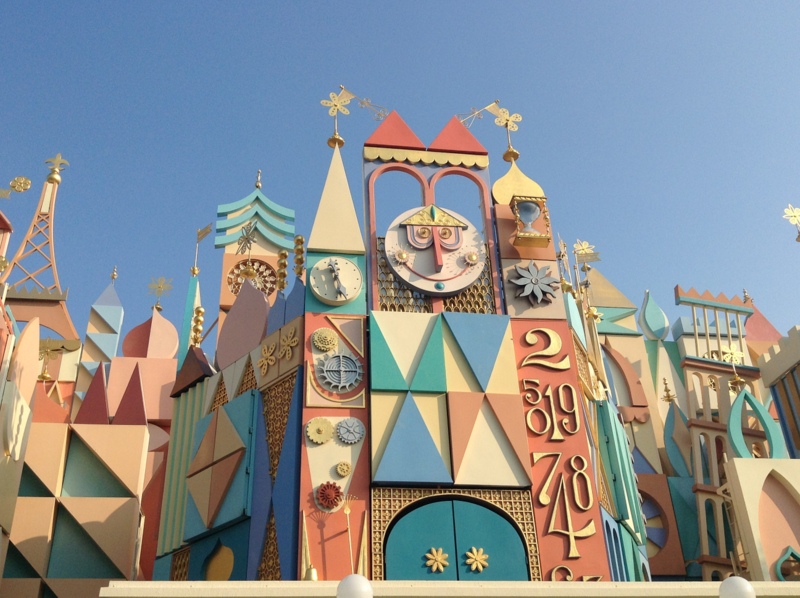 Waiting in line for the Grand Circuit Raceway, which is the equivalent of Autopia. The girls LOVE it.
And this time Tiny drove by herself, without the meltdown of her last attempt at driving. ( Which consisted of hysterical screaming and crying and yelling, "I AM NOT A GOOD DRIVER!!!" It was so sad and so funny.) She did a great job and was very proud of herself.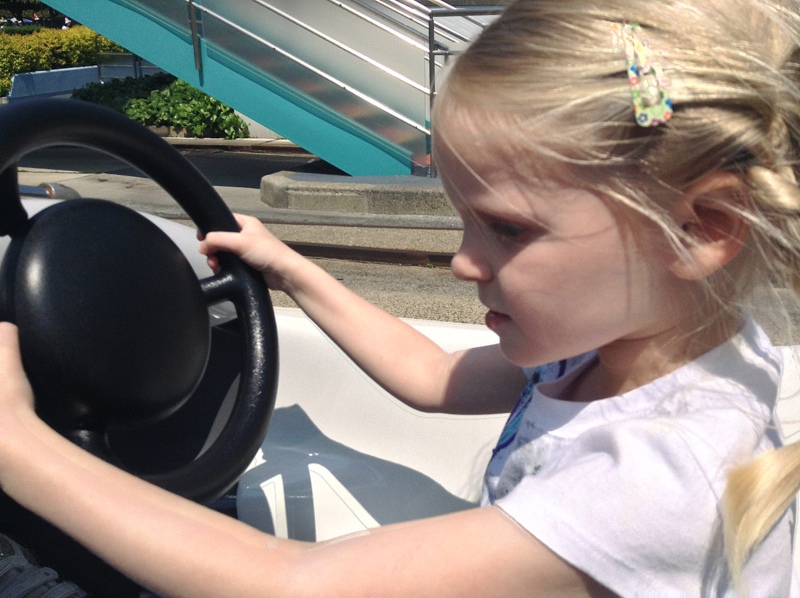 The two girls in this car were dressed identically, down to their sullen expressions. They were so too cool to be there. I wish I had been able to get a better picture.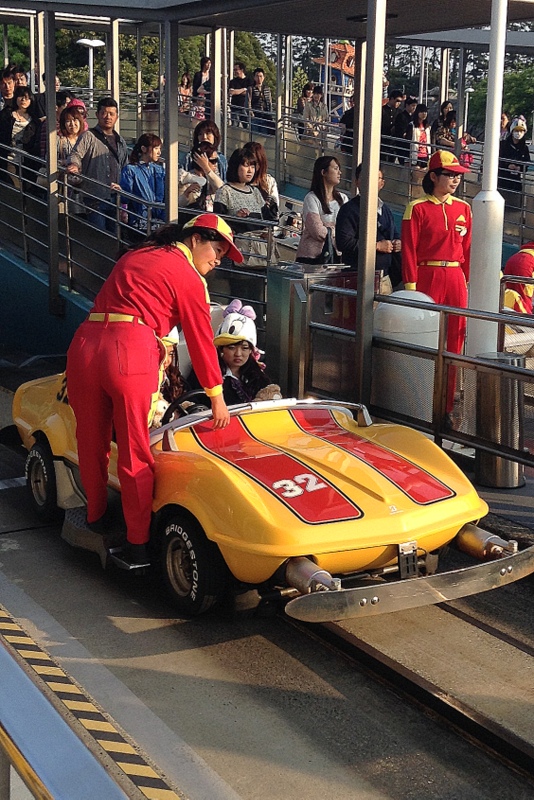 A hidden Mickey!
Zoe went on Gadget's Go Coaster with B while Tiny and I hung out in ToonTown. (It's her town!)
Driving Donald's boat house.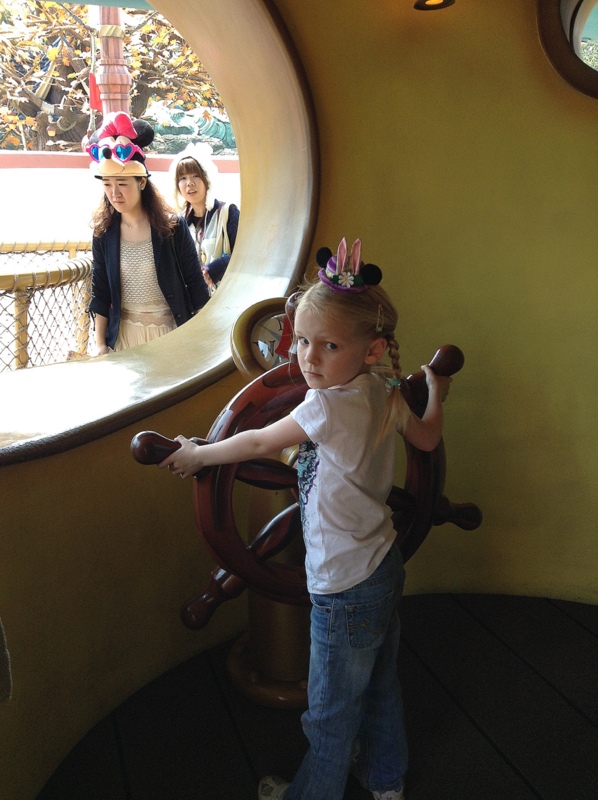 She figured out which button made the whistle blow and was so pleased with herself.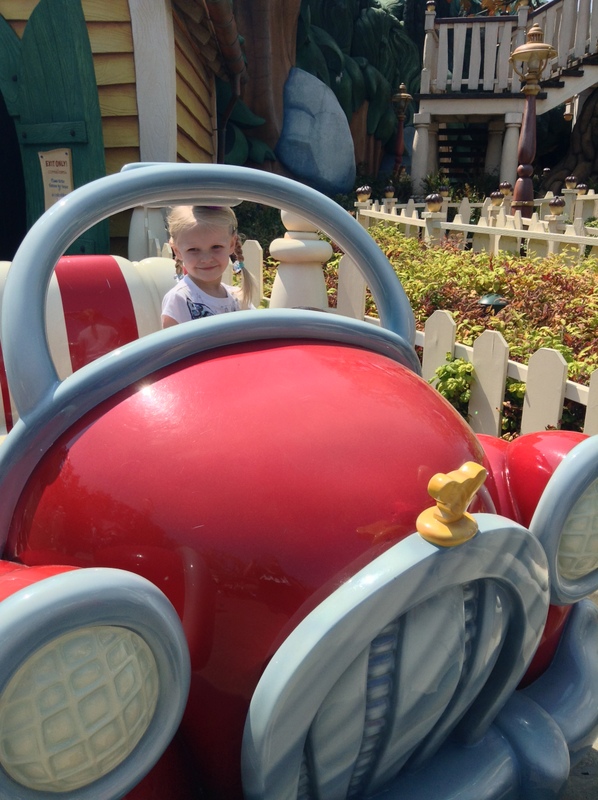 The Winnie the Pooh Ride (Pooh's Hunny Hunt) is one of our favorite rides. It's really hard to take pictures in, so you'll have to trust me that it's awesome. As you wait in line, you walk through huge pages from the book.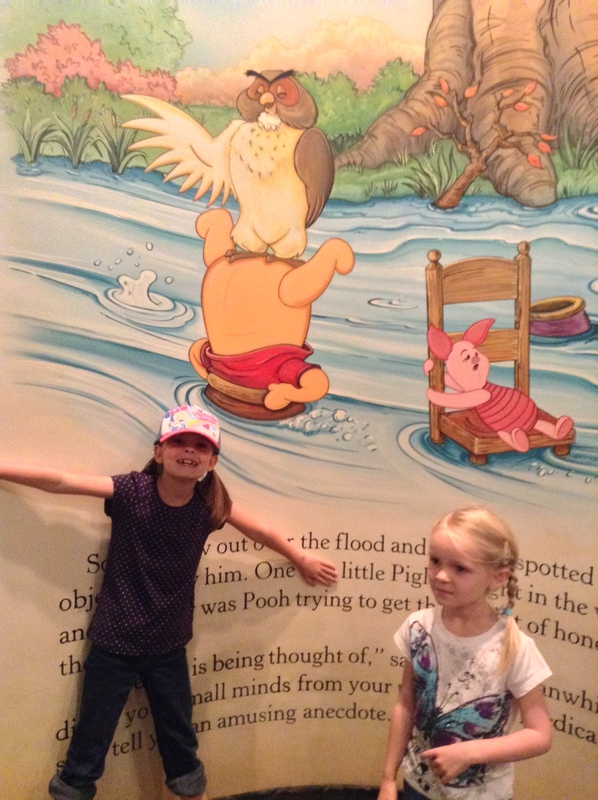 Since it was Easter recently, the theme at Disneyland right now is all about Easter. (More on that in another post.) This was part of the the parade: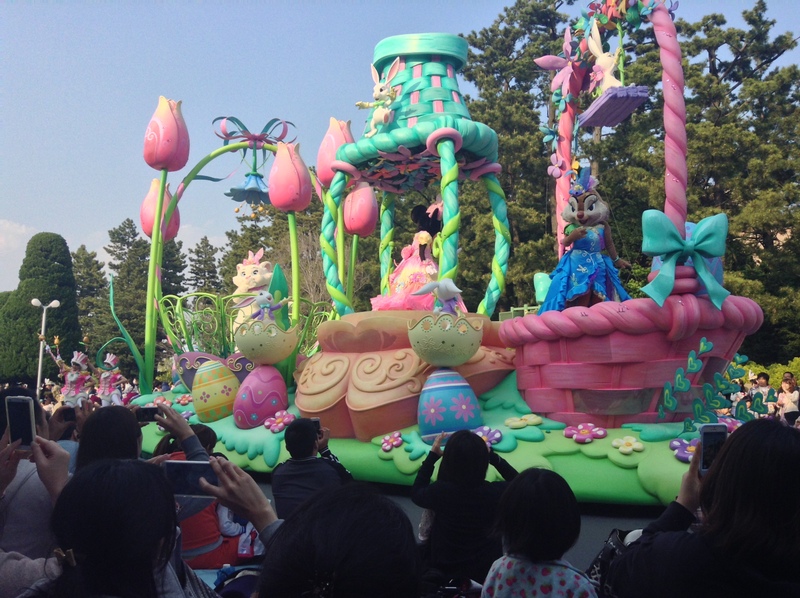 Carrot girls and bunny boys:
Bunny dancers:
Bunny majorettes: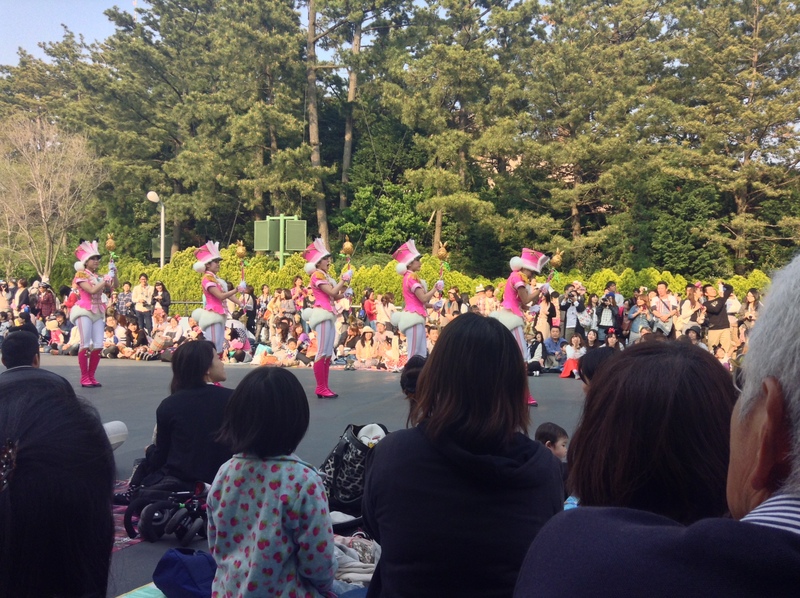 With their bunny tails:
Popcorn is huge at both Disney parks. You can get a popcorn bucket that has a strap (I'll post pictures in another post) and get refills all day. There's regular salted popcorn, caramel popcorn, curry popcorn, as well as other flavors:
B took the girls on the Tom Sawyer Island Rafts across to Tom Sawyer Island while I went to the Haunted Mansion. It's very similar to Haunted Mansion at CA Disneyland, except physically darker. And in Japanese. We got paused right at the ghost dancing/birthday party section- I was very happy.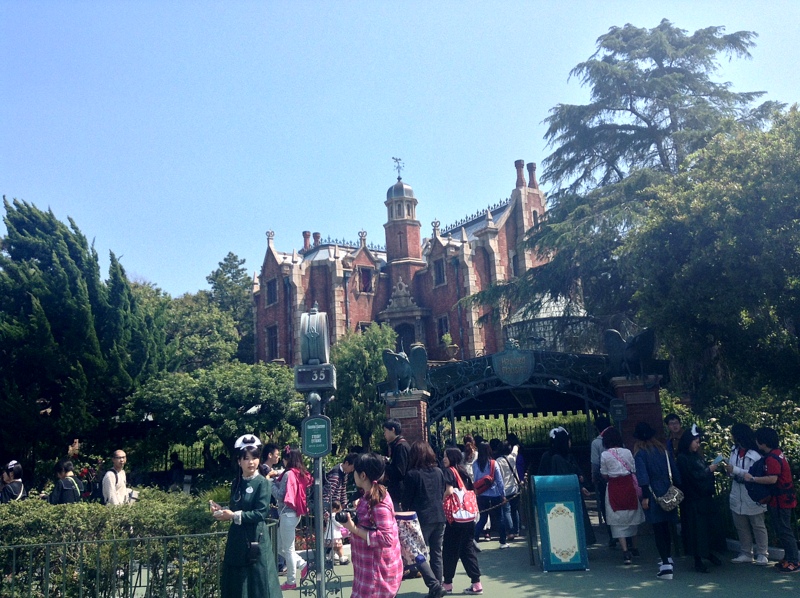 B took the girls on Alice's Tea Party (otherwise known as the Teacups). Thank goodness he likes that ride, because the girls love it (Tiny tried it for the first time this trip and is in love) and it makes me so sick.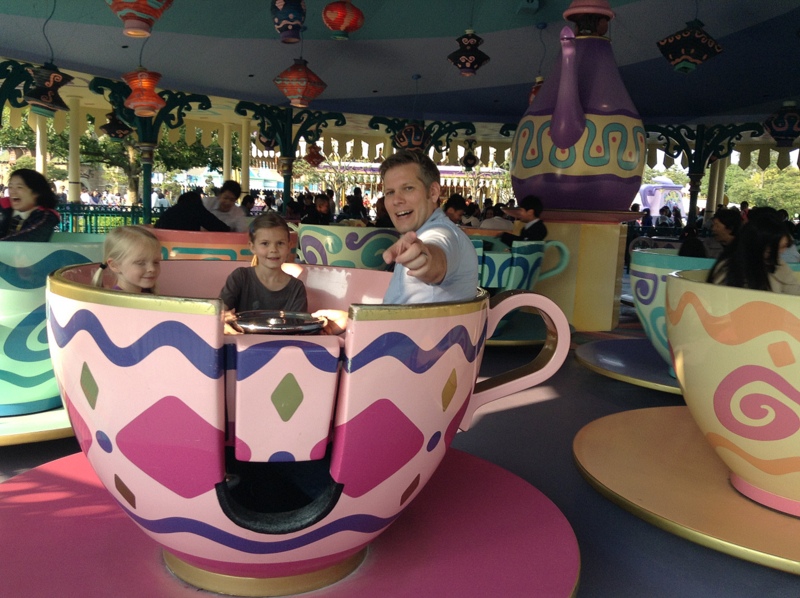 One of the rides that we haven't seen at other Disneys (it very well could be at CA Adventure- I just checked, and it's a different ride) is the Monsters Inc Hide and Seek (Z thinks it should be hide and eek, and I very much agree.) The design is gorgeous, you enter the Monsters Inc offices and go past all kinds of cool Monsters Inc appropriate posters and things. The ride consists of going through different monsters scenarios and shining your flashlight on monsters as they pop up. There's no scoring, it's just a fun little game.
We had dinner at the Queen of Hearts Banquet Hall, just for me.
The inside is incredibly gorgeous.
Pretending to be guards.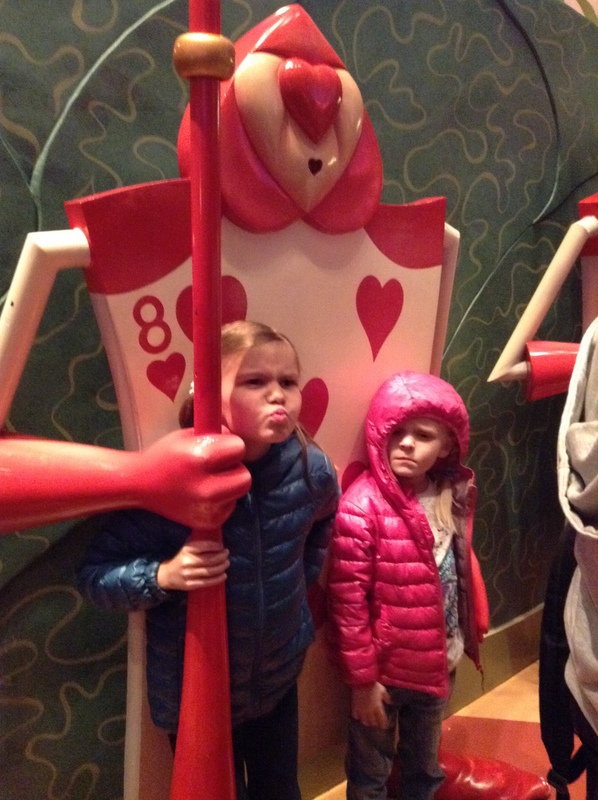 Making her mouth into a heart.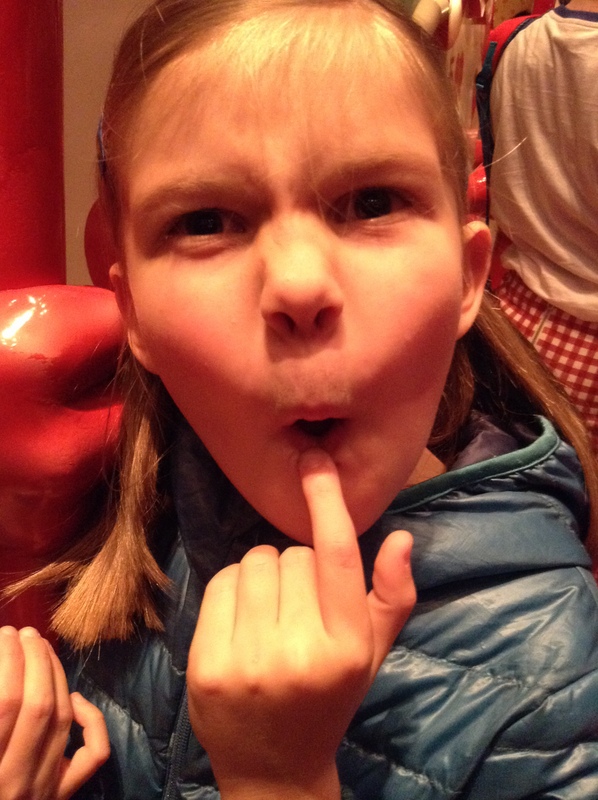 More interior decoration.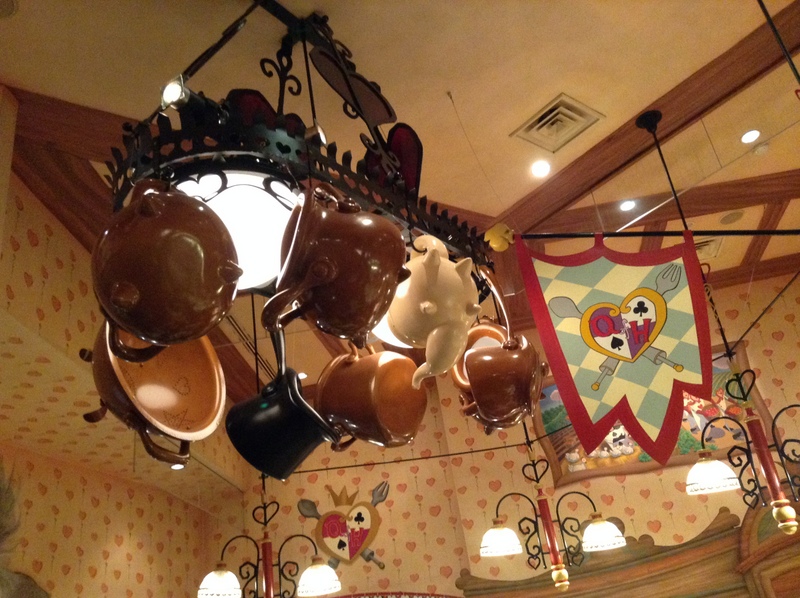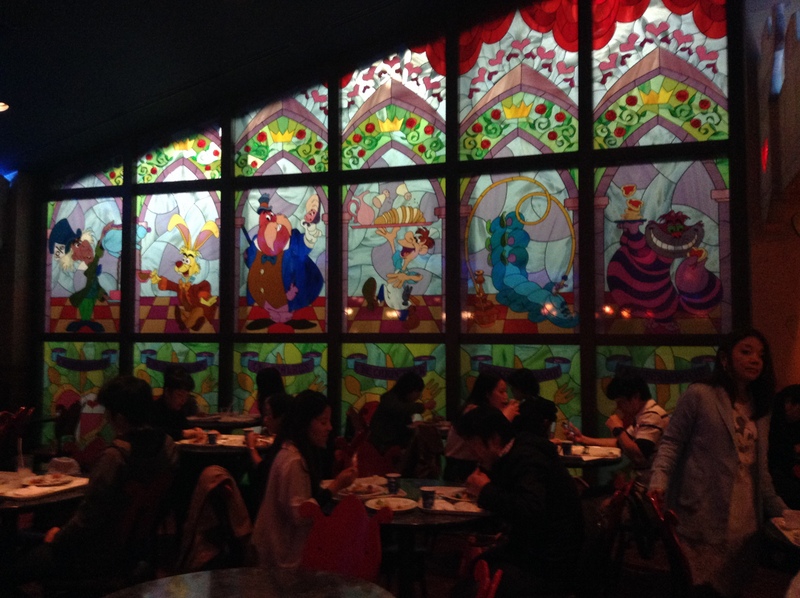 The food was really, and I mean really, good. I had swordfish, B had steak, the girls had rotisserie chicken and rice- and actually ate it. They loved it, in fact. And the desserts were SO good. So good.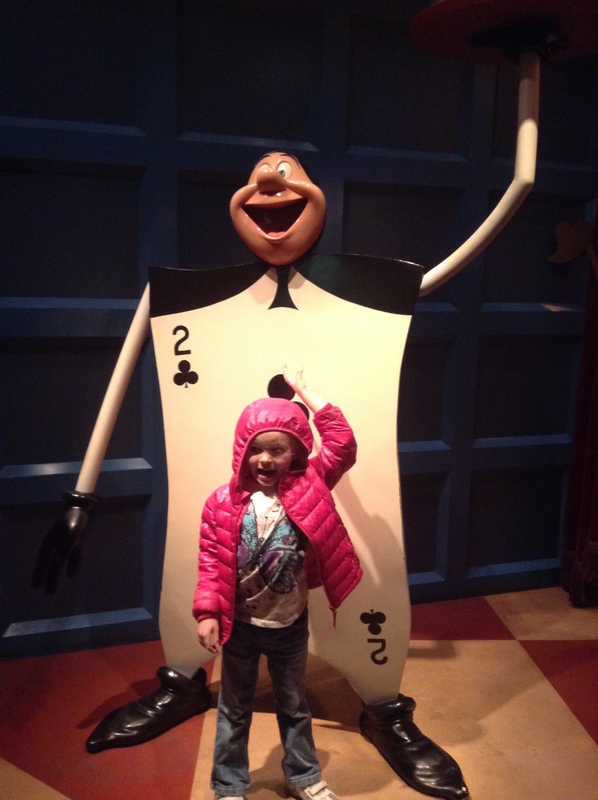 Other rides we went on: We visited the Tiki Room, which has less performing by the birds and the tikis and more mischief by Stichi (Stitch). We went on the Castle Carousel and the Mark Twain Riverboat. B went on Star Tours and got to see a segment he's never seen before, and he and Z went on Space Mountain. She reports that it's faster and crazier than Space Mountain in CA. We also went on the Space Jets (similar to Astro Orbiter).
Rides we did not go on: Pirates of the Caribbean was closed for repairs, and we decided not to go on the Jungle Cruise. We also didn't go on Big Thunder Mountain because it was overrun by high school students (the line was SO long), and it would have taken serious cajoling to get the girls on it. We didn't go on Splash Mountain because my girls are irrationally opposed to it. We skipped the Peter Pan, Snow White, and Pinnochio rides because the lines were INSANE. (Seriously, the majority of the people there either were adult couples or people with tiny kids. And all of those with tiny kids were in line for those 3 rides and Dumbo.) I think Roger Rabbit was closed- I don't even remember seeing it. Â We skipped Buzz's Astro Blasters because the girls hate it.
We also went through Cinderella's Castle, but that gets its own post. So you'll have to wait.
We stayed at the park until about 7:45, then headed to our hotel (which also gets its own post). The girls watched fireworks out the window of the monorail as we went.
More to come soon!